Copperwood Showhome in Lethbridge by Stranville Living
At Stranville Living, we explore the epitome of luxurious living in the heart of Lethbridge, Alberta. Today, we invite you to embark on a virtual tour of our Copperwood show home, meticulously crafted by Stranville Living Master Builder. Nestled within the vibrant Lethbridge community of Copperwood, this architectural masterpiece exudes elegance, style, and functionality in every corner. From the moment you step through its grand entrance, you'll be captivated by the seamless blend of modern design, timeless details, and the unmistakable charm that makes this show home an extraordinary place to call home. Join us as we virtually open the doors to our Addison home model and discover the heights of comfort and sophistication that await you within its walls. We will also delve into the numerous amenities of Copperwood, the up-and-coming west Lethbridge neighbourhood that hosts our beautiful show home, allowing you to grasp the full picture of life in Copperwood. 
Whether you're a passerby, a prospective buyer, or a design enthusiast, this Copperwood show home's exterior captivates with its harmonious color scheme, striking architectural elements, and a seamless fusion of modern and timeless design. It sets the stage for the exceptional living experience that awaits inside and serves as a testament to the craftsmanship and expertise of Stranville Living Master Builder. 
As you drive up to this stunning Copperwood show home located at 1432 Coalbanks Blvd West, the striking light blue exterior stands out against the surrounding new homes and shows beautifully from both the street view and community park behind this home. The exterior wainscoting and white accents appeal to buyers that appreciate the timeless charm of a Craftsman style elevation.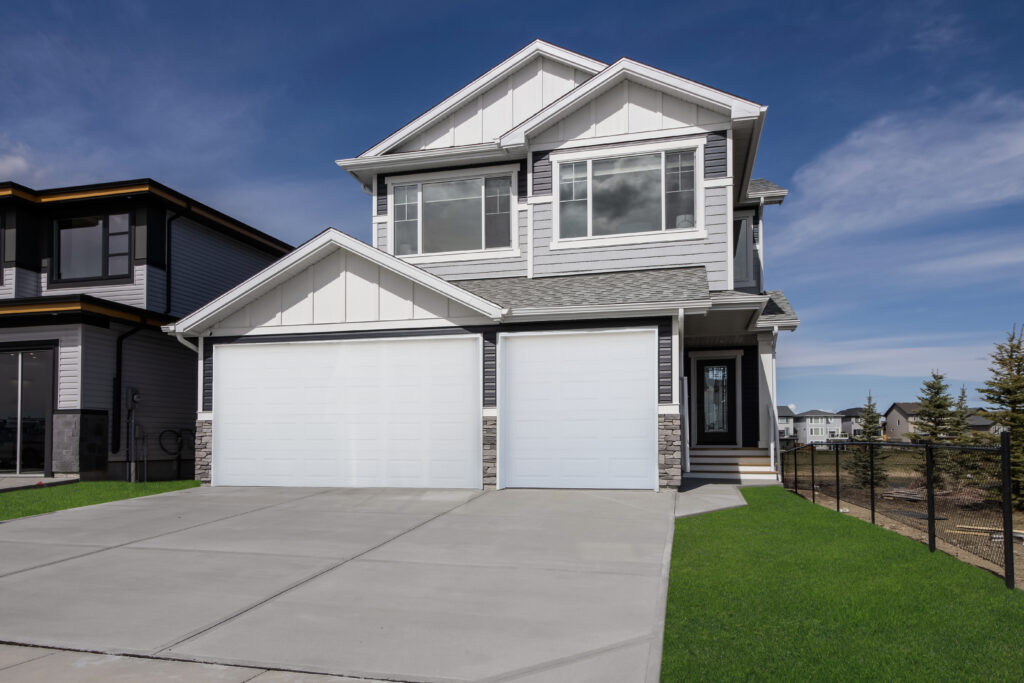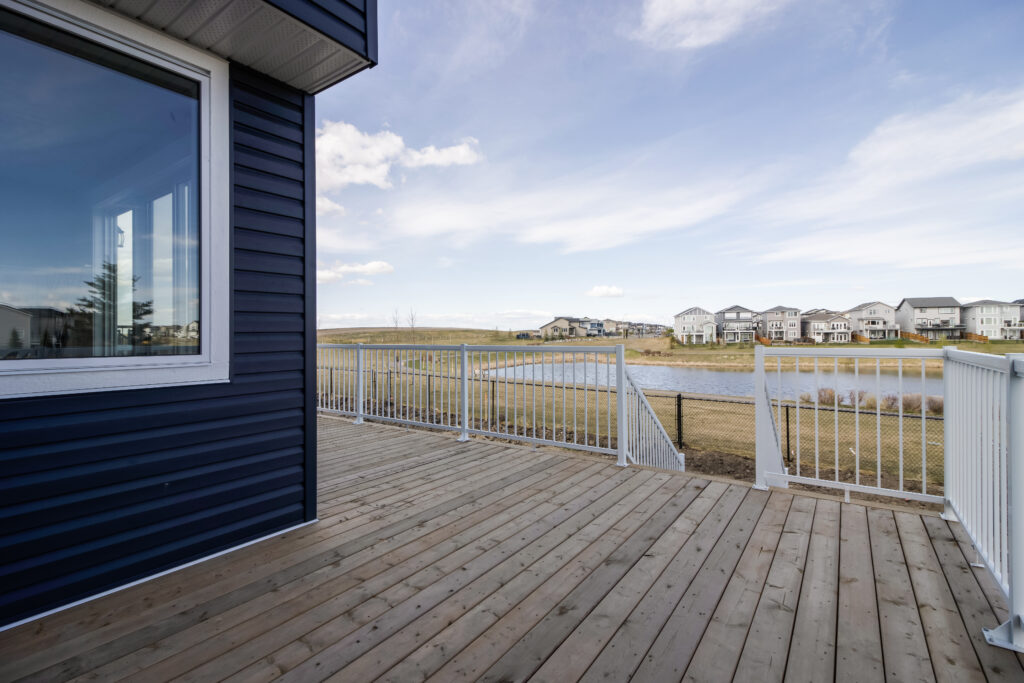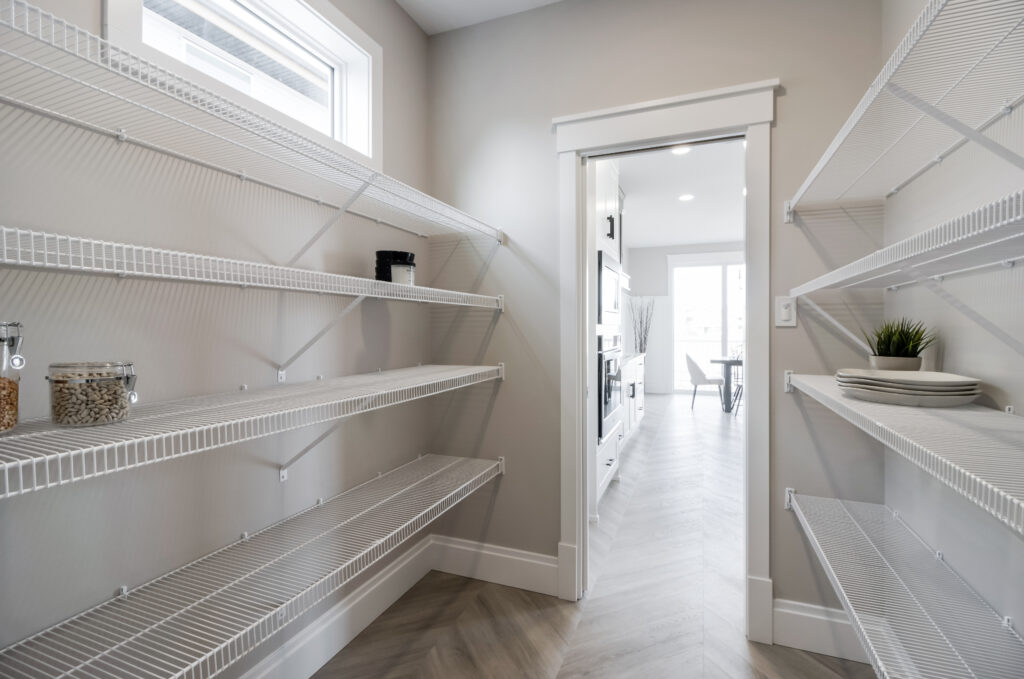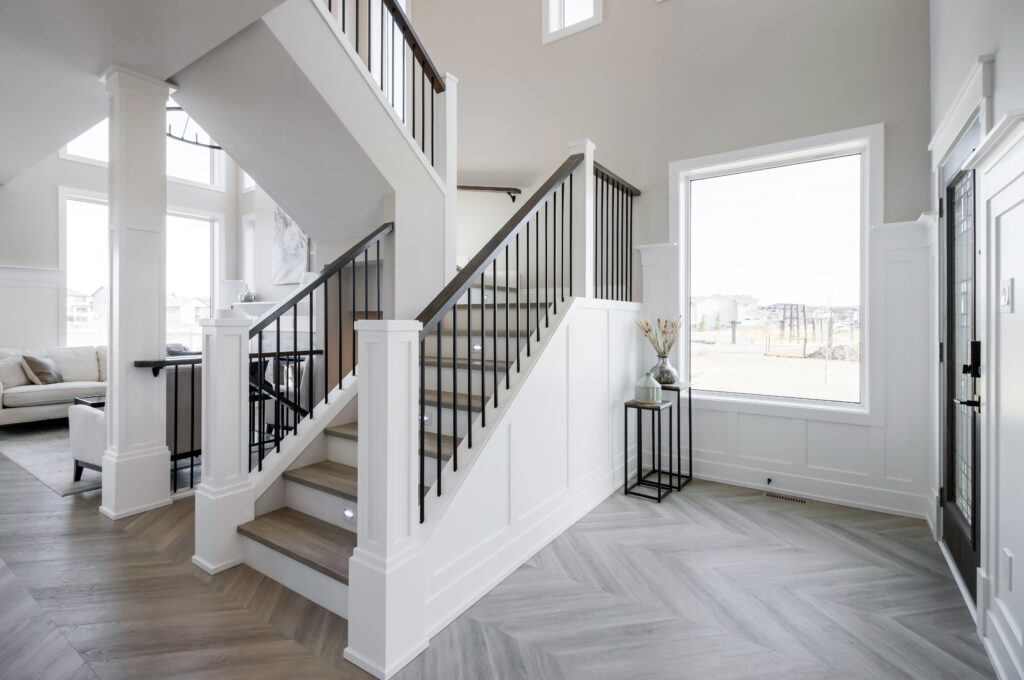 Show Home Layout and Details
Whether you enter this 1788 square foot home from the garage entrance or main floor entryway, you are met with a walkthrough mudroom. This functional layout allows your everyday traffic to flow seamlessly and ensures ample storage. Continuing through the walkthrough pantry from the mudroom, we now enter the heart of the home: the open layout kitchen, dining, and living room space. Large floor-to-ceiling windows showcase the park's views and capture stunning sunsets. Accessible from the dining room, we have a full-width rear deck. It provides a terrific amount of outdoor space for both family enjoyment and entertaining large groups. Moving back inside, the floor-to-ceiling windows are especially impressive as we move into the living room. The second floor is open to this area, making the living room ceiling over 18 feet tall and adding ample natural light to both floors of the home. 
Now, moving up the central staircase, which is also open to the main floor, we arrive to explore the second floor. Here we have 3 bedrooms, 2 bathrooms (in addition to the powder room downstairs), upper-floor laundry, a large media room, and a double vanity ensuite and walk in closet. The primary bedroom was modified to incorporate built-in bedside shelving and lighting for ideal use of space. And don't forget to enjoy the loft-like experience of the open to below space! Overall, the layout and features of this show home make it perfect for family living and entertaining.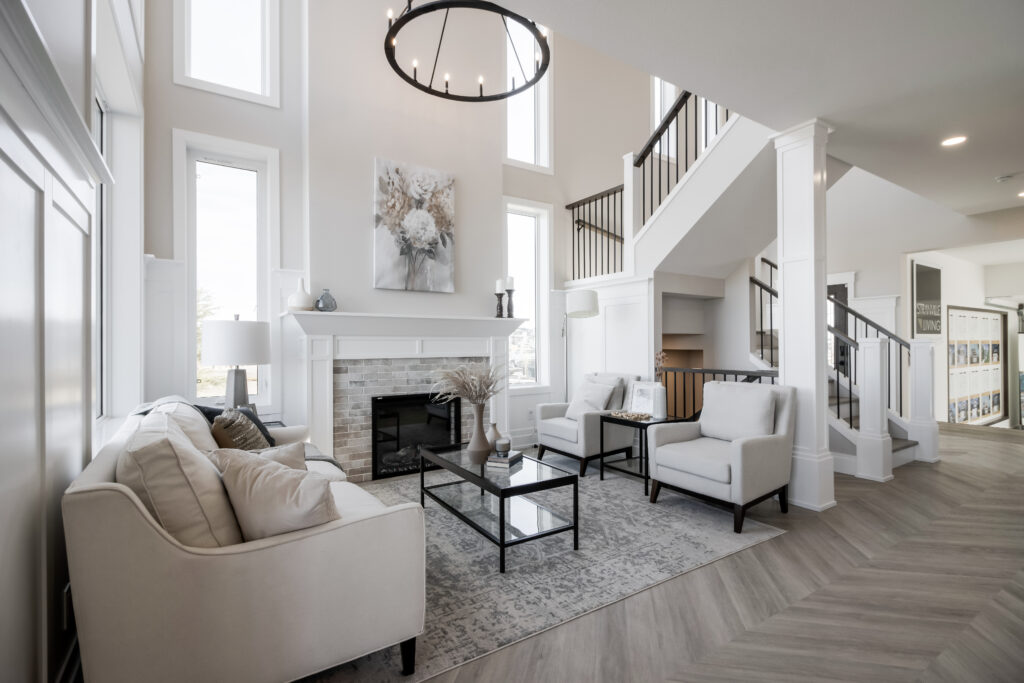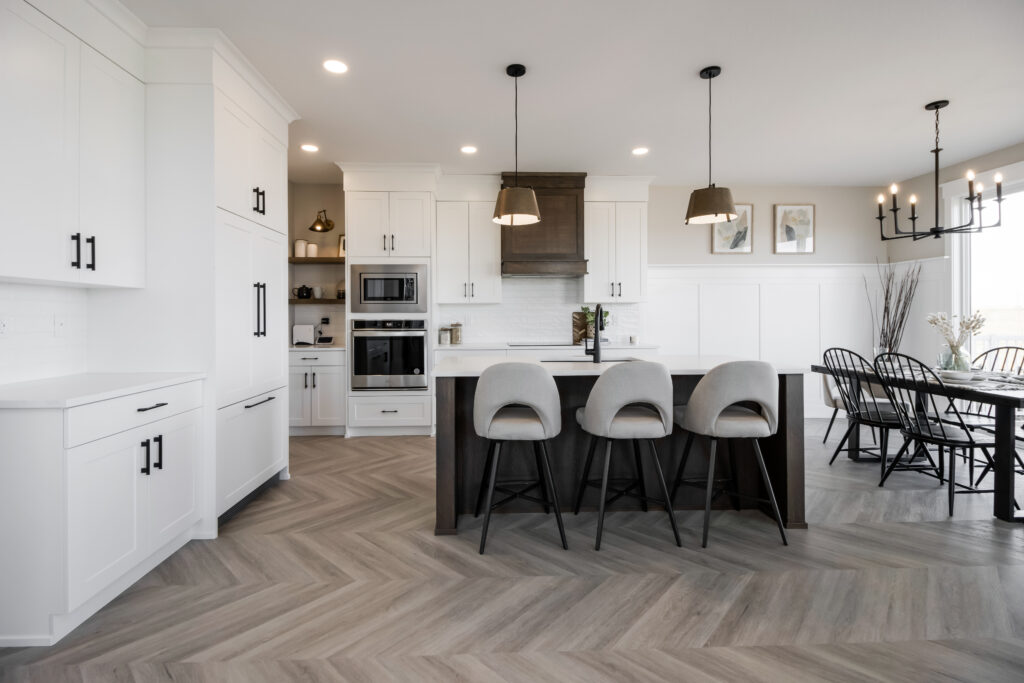 Show Home Design Selections
At Stranville Living, all our home models are thoughtfully crafted to provide the most enjoyable and functional living experience. But once we bring the bones of the home to life, there are design selections that can be added to make that expert function even more ideal. 
For example, the layout and function of this Copperwood Showhome is enhanced by its stunning design selections and finishes. Wainscotting, decorative pillars, and a custom-designed staircase accentuate the Craftsman style of the home, and brick accents on both the fireplace and main floor powder room blend into the neutral colour  palette while providing alternate textures and tones. The LVP (Luxury Vinyl Plank) flooring has a unique chevron pattern throughout the main floor instantly catches attention and welcomes you into the open expanse of the main level of the home. This quality flooring is also durable and very easy to clean so you will never have to sacrifice easy maintenance for beauty. Wall mounted faucets and toilets also assist in easy cleaning and help keep these spaces in a sanitary condition. 
We can't talk about the design of this home without touching on its amazing kitchen. The clean, crisp white cabinetry sets the perfect backdrop for its standout features like the dark wood range hood and matching corner open shelving and island base. The built-in fridge blends in seamlessly to leave room for a splash of shine from the centrally placed stainless steel oven and microwave. This kitchen, along with the rest of our Copperwood show home, is guaranteed to impress.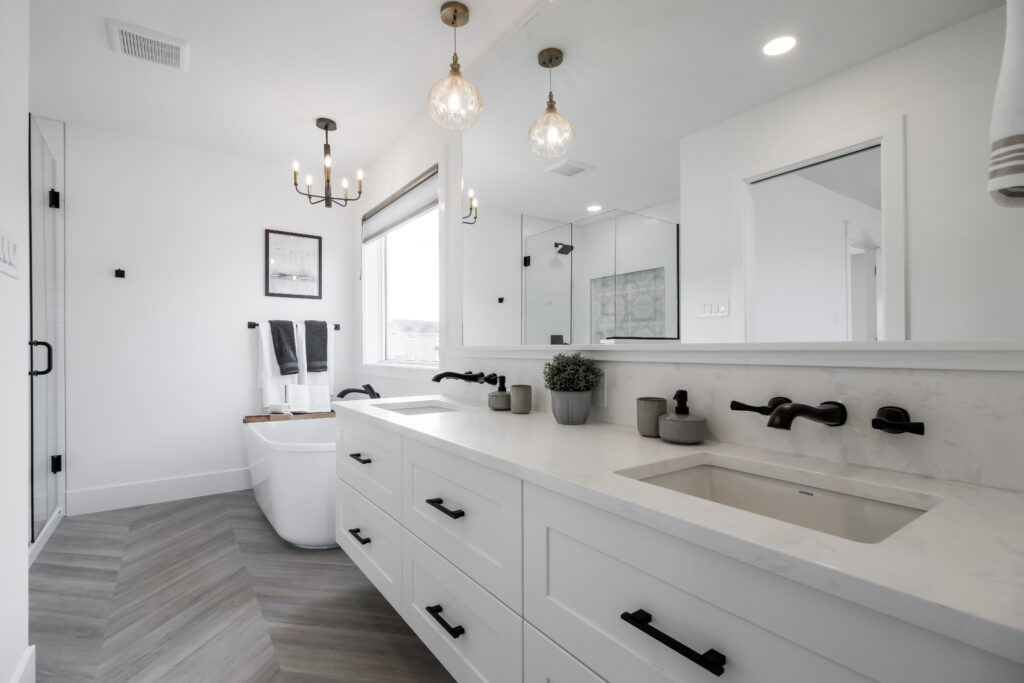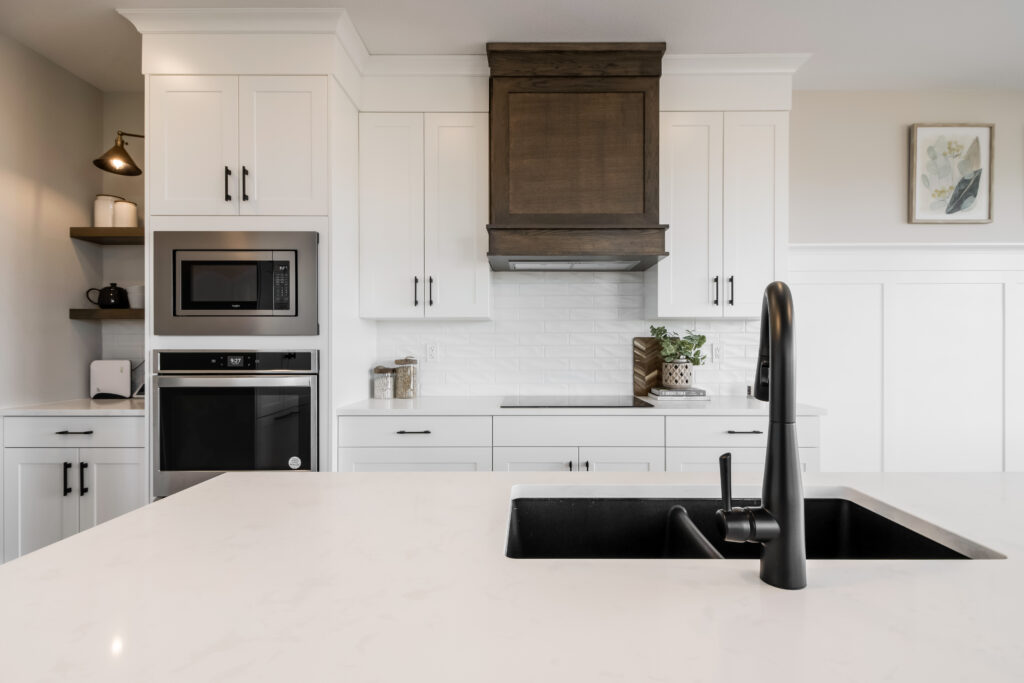 Innovative Show Home Features
You would be challenged to find a finishing feature in want of an upgrade in this living space as no detail was left out by Stranville Living Master Builder. In addition to the state-of-the-art design selections we've already discussed, additional features were added to this Copperwood home to make it that much more irresistible. Added interior innovations include LED pot lighting throughout the home and stair lighting which add comfortable ambient light at every step. Another upgraded feature is the USB enabled plugs, making each outlet a fast-charging station for any device. 
Further, an active solar panel system provides relief for utility costs and can supply power back to the grid when available. The system's app can provide live usage data and allows for the strategic use of appliances during peak times of energy capture. The upgraded electrical service to the home allowed for the addition of a Tesla EV charger in the garage if the future homeowner wishes to further reduce their carbon footprint and drive an electric vehicle. 
From the functional layout to the advanced and eco-friendly electrical additions, this Copperwood show home is a stunner and an obvious choice in this Lethbridge neighbourhood. 
Living in the Copperwood Lethbridge Community
Our Copperwood showhome is a masterpiece in itself, but its location adds even more to this already desirable house. Copperwood is an award-winning community in southwest Lethbridge. While it is a coveted location for new home development, it's also a well-established community hosting a variety of schools, programs, and shopping destinations, making it an ideal place to live for individuals and families alike. One of the standout features of Copperwood is its commitment to providing residents with a high quality of life. The community boasts an abundance of green spaces and over 47 acres of parks and walking trails, creating a serene and picturesque environment for residents to enjoy. Whether you're looking to take a leisurely stroll, go for a jog, or simply unwind amidst nature, Copperwood offers ample opportunities to connect with the outdoors and maintain an active lifestyle. In addition, the community is home to well-maintained playgrounds, perfect for families with children to enjoy quality time together and foster a sense of community. 
Apart from its natural beauty, including its Rocky Mountain landscape, Copperwood offers convenient access to a variety of amenities that enhance everyday living. The nearby commercial area provides residents with a range of shopping and dining options, ensuring that everyday necessities are easily accessible. From grocery stores to boutique shops and local eateries, residents can meet their daily needs without having to travel far. Additionally, Copperwood is well served by schools, making it an attractive choice for families. The presence of reputable educational institutions in close proximity ensures that children have access to quality education within a safe and supportive community. With its dedication to fostering a vibrant and inclusive lifestyle, Copperwood stands out as a desirable place to live, offering a harmonious blend of natural beauty, convenient amenities, and a strong sense of community. 
Nearby Amenities in Copperwood Lethbridge:
ATB Centre

 

Crossings Commercial Centre

 

Crossings Branch Library

 

Coalbanks Elementary School

 

Community Garden

 

Places of Worship



Copperwood New Home Sales Consultant
To help guide you through Stranville Livings's Copperwood show home, is Corrisa Mildenberger. She is our Copperwood New Home Sales Consultant and is prepared to help you with all queries related to Stranville Living, our home models, and the local neighbourhood. Corissa is present at the Copperwood show home Monday through Thursday from 2:00PM to 8:00PM and Saturday and Sunday from 12:00PM to 5:00PM.  
She takes time to understand the unique needs and desires of each buyer and uses her expertise to guide them through a smooth and enjoyable home buying process. We invite you to visit Corrissa at our Copperwood show home!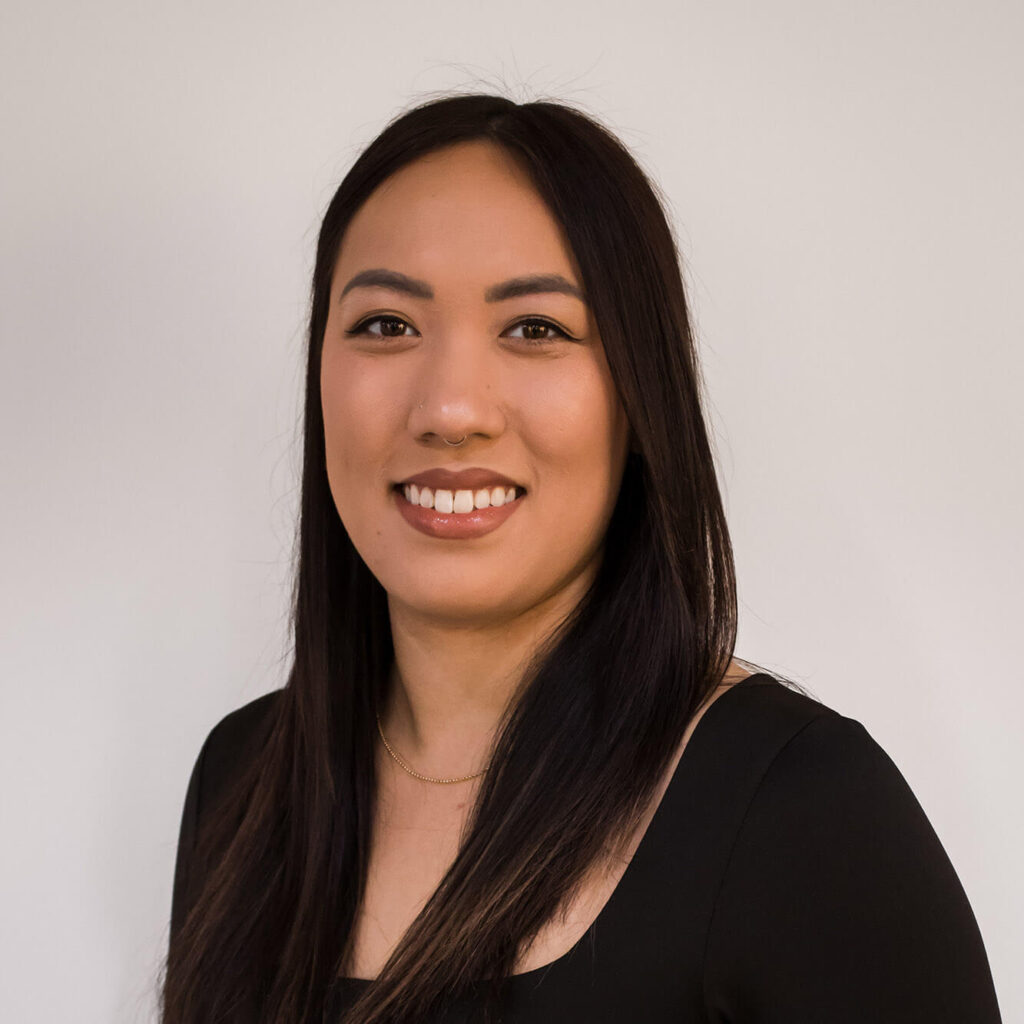 Copperwood New Home Sales Consultant
Other New Homes by Stranville Living in Copperwood
As you marvel at the intricate details and exquisite craftsmanship of our one-of-a-kind show home in Copperwood, you will be pleased to know we have numerous other houses for sale in the neighbourhood. Currently, two are built using the same Addison home model as our show home. One is ready for possession and the other is expected to be move-in ready later this year.  Also available to purchase are multiple suited homes which provide extra developed space for you and your family, or to use a rental income.  
Multiple units of our Edderton and Prestwick two-storey townhomes are also approaching completion in Copperwood and are already selling fast.  
In conclusion, the Copperwood show home by Stranville Living Master Builder in Lethbridge offers a glimpse into a world of luxurious living and exceptional craftsmanship. From its striking exterior to its thoughtfully designed layout and innovative features, this show home showcases the perfect blend of modern design and timeless elegance. The Copperwood community itself adds to the allure, with its abundance of green spaces, parks, and walking trails that invite residents to embrace an active and connected lifestyle. The convenient access to amenities, including nearby shopping, schools, and recreational facilities, further enhances the desirability of living in Copperwood. If you're searching for a place where beauty, convenience, and community converge, the Copperwood show home and its surrounding neighborhood are sure to captivate and inspire you to envision a life of comfort and sophistication. Don't miss the opportunity to explore all that Copperwood has to offer and make this exceptional community your new home. 
Our Copperwood Consultant, as well as our entire team, would be happy to host you at any of our show homes and help you find your dream home.