Southbrook Lethbridge Show Home by Stranville Living Master Builder
When it comes to finding your dream home, the location, quality, and community are crucial factors that play a vital role in the decision-making process. Southbrook Lethbridge represents a thriving new community in the South of Lethbridge. Stranville Living Master Builder is one of the featured home developers, showcasing how these factors can harmoniously come together to create an exceptional living experience. In this article, we will explore our stunning show home in Southbrook Lethbridge, delve into the standout features of this community, and discuss a wide range of homes for sale in Southbrook that cater to various preferences and needs. Whether you are searching for Southbrook homes for sale or are interested in Stranville Living's masterful development, this article will provide valuable insights. 
The Southbrook Lethbridge Show Home
A true representation of what Southbrook has to offer, the Southbrook Lethbridge show home is a masterpiece that showcases the finest craftsmanship, design, and attention to detail. As you step inside, you'll be greeted by a sense of elegance and luxury that instantly makes you feel at home. The spacious layout, open-concept design, and carefully chosen finishes reflect the contemporary preferences of today's homeowners. 
Modeled after our Perth II home model, one of the standout features of the show home is its seamless integration of indoor and outdoor living spaces. Expansive windows allow natural light to flood the interiors, highlighting the exquisite details of the interior design. The show home is not just a structure; it's a canvas that illustrates the possibilities for creating a personalized living space within the Southbrook community.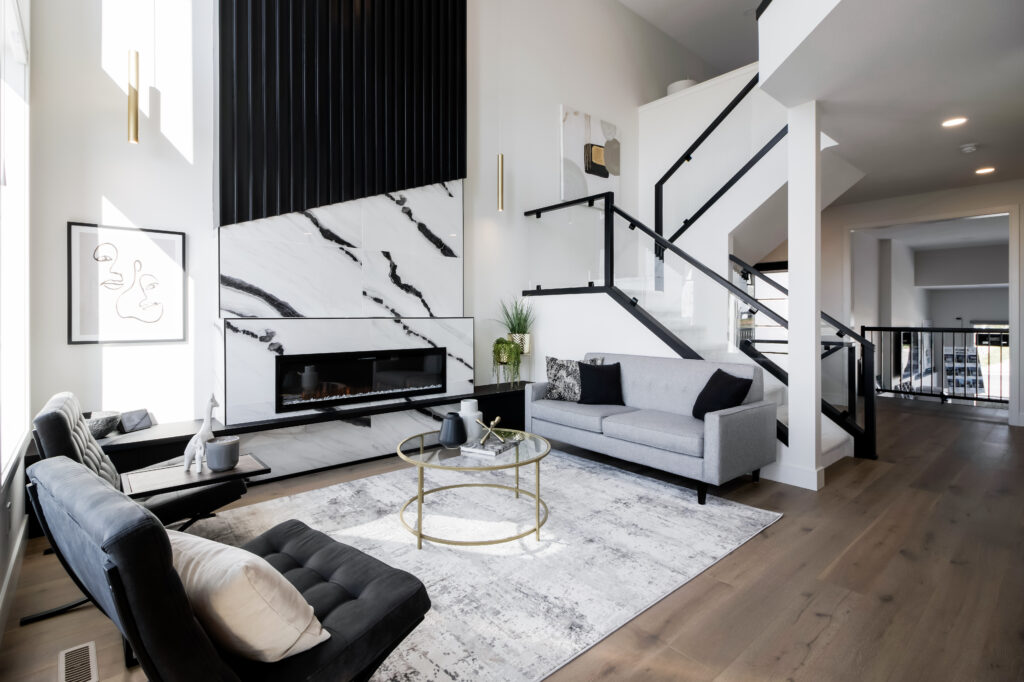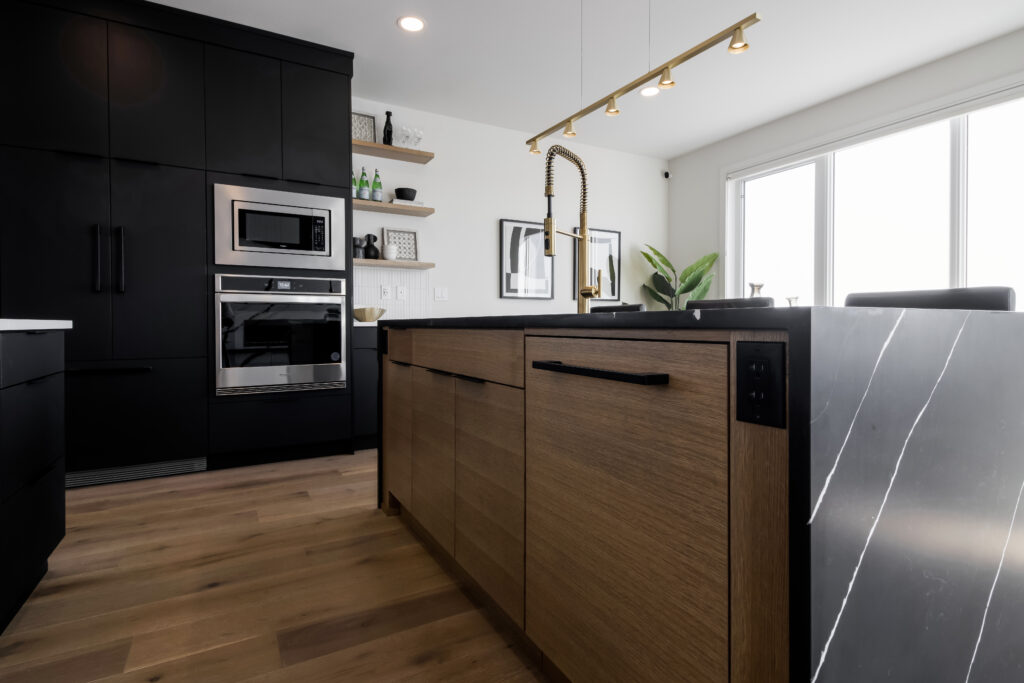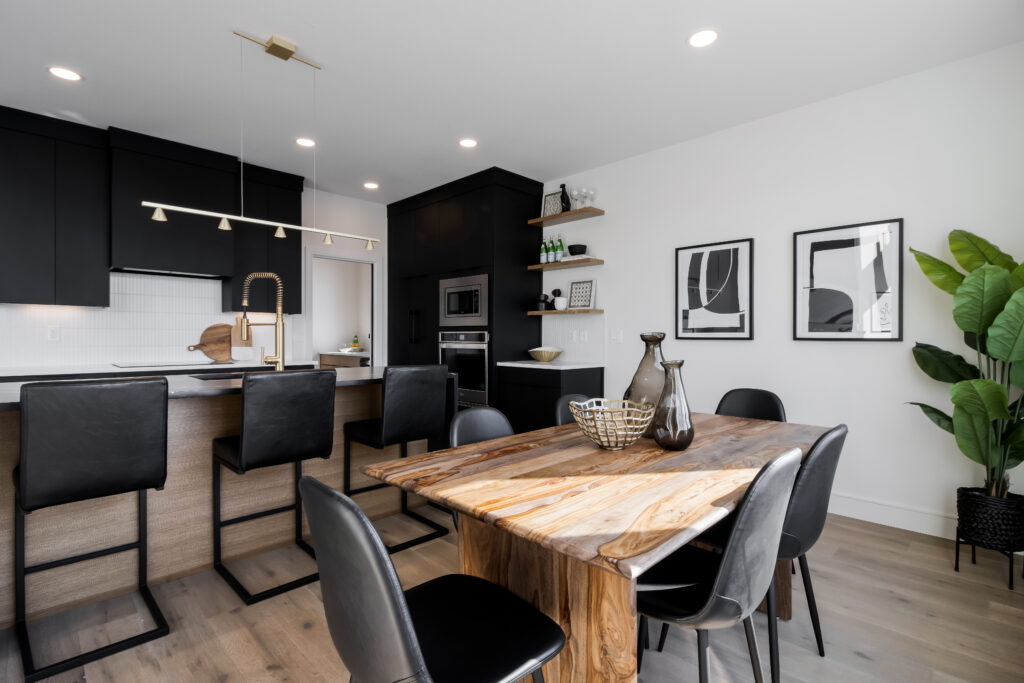 The Perth II Floor Plan and Layout
Allow us to guide you virtually through the Perth II layout of our stunning show home in Southbrook. Entering this 1965 square foot home through the main entrance, you are met with a convenient closet and inviting foyer. Continuing into the home, we have a grand staircase leading to the second floor. From here, it's evident that the living room, just on the other side of the staircase, ascends the full height of the home being open from the second-floor landing. The living room is an obvious focal point along with the open-concept kitchen and dining room. The main floor also hosts a powder room, walk-through pantry (although, this was upgraded to a spice kitchen in this particular home), and a mudroom connecting the home and the double garage. 
Moving to the second floor, we find three bedrooms, one of which is complete with an ensuite and walk-through closet. There is also an additional bathroom, laundry, and a media or multi-purpose room. 
However, in addition to the already stunning layout of the Perth II home model, this Southbrook show home went above and beyond with numerous customizations and upgrades. These changes make the home even more functional for daily living, entertaining, and raising a family. Let's get into it! 
Show Home Ensuite Upgrades
The Perth Ensuite within the Southbrook Lethbridge show home is not just a bathroom; it's a sanctuary of innovation and luxury, designed to elevate everyday living. 
The creative integration of the shower drain into the Schluter shower base system required inventive engineering to provide elements of beauty and state-of-the-art waterproofing. This innovation creates a seamless and elegant aesthetic, while luxurious custom floor to ceiling glass doors add an extra touch of opulence. 
The design prowess is evident in integrating light fixtures into the full-width mirrors. This captivating feature adds sophistication to the space. The floating double vanity matches the kitchen Quarter Sawn oak island cabinets, boasting a horizontal grain. The cabinet style is a striking centerpiece that combines elegance with innovation and provides warmth in contrast to the upgraded high-gloss tile. Centered between vanities is the added clear skylight providing ample natural light and comfort to the luxurious bathroom. 
The great innovation is met with superb functionality with an efficient Layout. The ensuite easily accommodates two adults with its double vanities, separated water closet, spacious shower, and over-sized floor-mounted soaker tub. Unique light fixtures and an obscure transom window provide ample lighting while setting the mood for the day and night. A floating vanity and wall-hung toilet facilitate easy cleaning, contributing to a hygienic environment. Under cabinet LED lights offer practical illumination for late-night visits.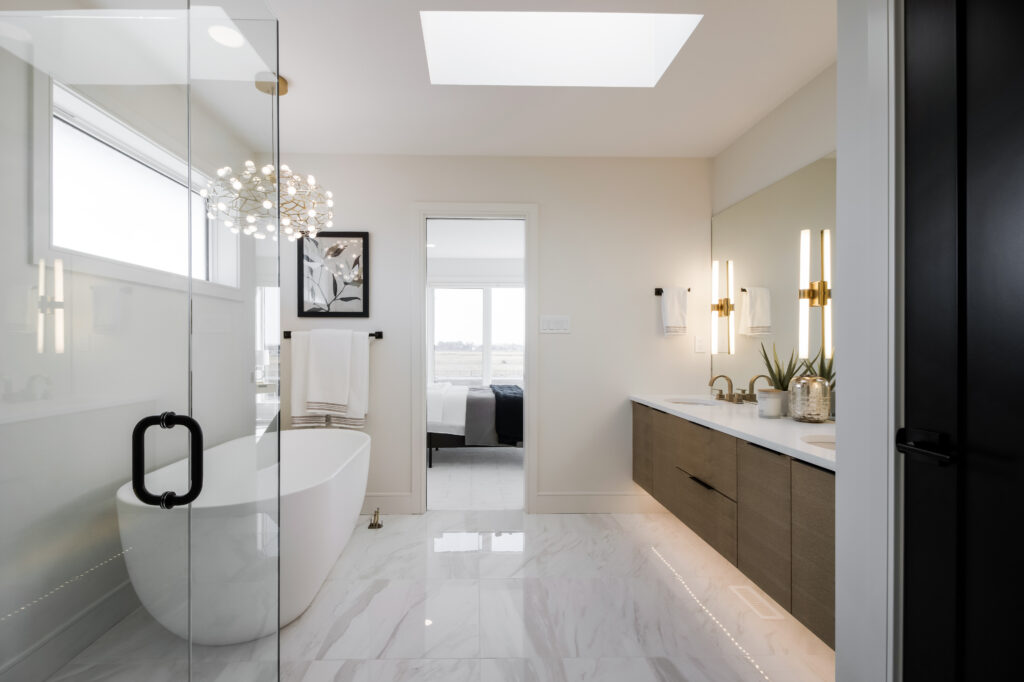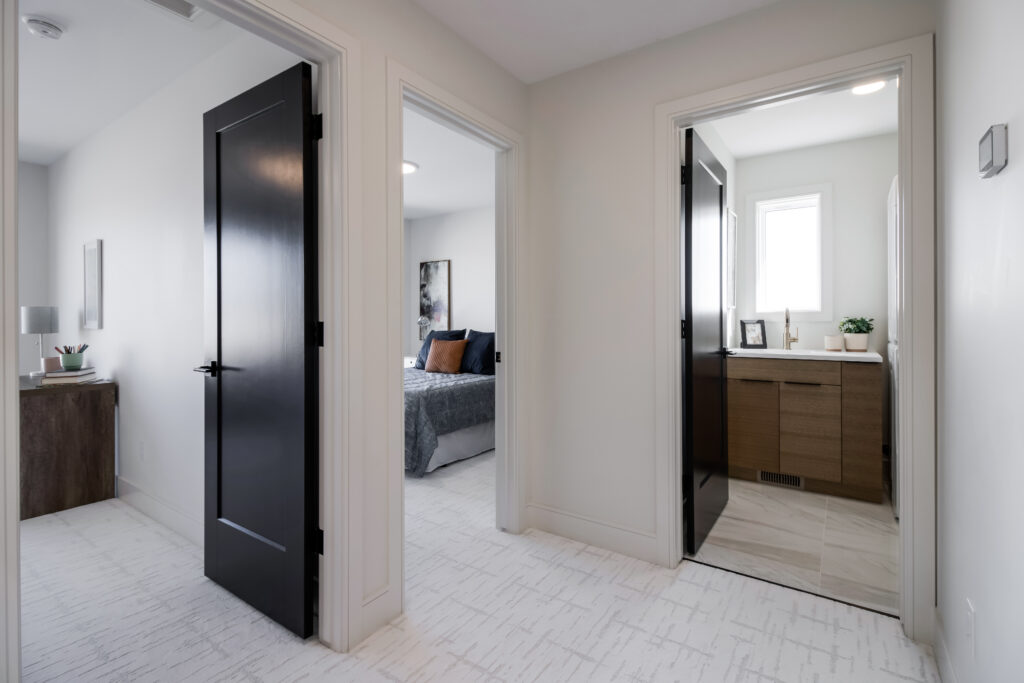 Energy Efficient Upgrades
This remarkable residence showcases a commitment to energy efficiency through a series of thoughtfully integrated upgrades. The upgraded attic insulation ensures optimal temperature regulation year-round, keeping the home cozy in winter and cool in summer. The high-efficiency furnace and variable-speed 18 SEER air conditioner guarantee reduced energy consumption without compromising comfort. The innovative zone heating and cooling system allows for personalized climate control in different areas of the house, optimizing energy usage. With the inclusion of an HRV (Heat Recovery Ventilator) system, fresh air is continuously circulated while preserving indoor climate. To pave the way for a greener future, the home has been equipped with conduit and wiring, primed for seamless integration of solar panels. Evidently, our sshowhome is the epitome of energy-conscious living in Southbrook, where eco-friendly upgrades harmonize with modern luxury. 
Step into a realm of culinary convenience as we unveil the latest enhancement in this Southbrook home – the conversion of the traditional walk-through butler's pantry into a functional spice kitchen. As the heart of the home, the main kitchen exudes an air of elegance and presentation, aptly earning its title as the "show kitchen." One homeowner aptly remarked that the main kitchen serves as her pristine stage for entertaining, while the spice kitchen, with its new gas range, hood fan, prep sink, and dishwasher, remains a hidden haven for cooking and creativity. The addition of a prep sink and dishwasher elevates efficiency, while an extra window infuses the space with natural light, enhancing the culinary and overall experience of the home.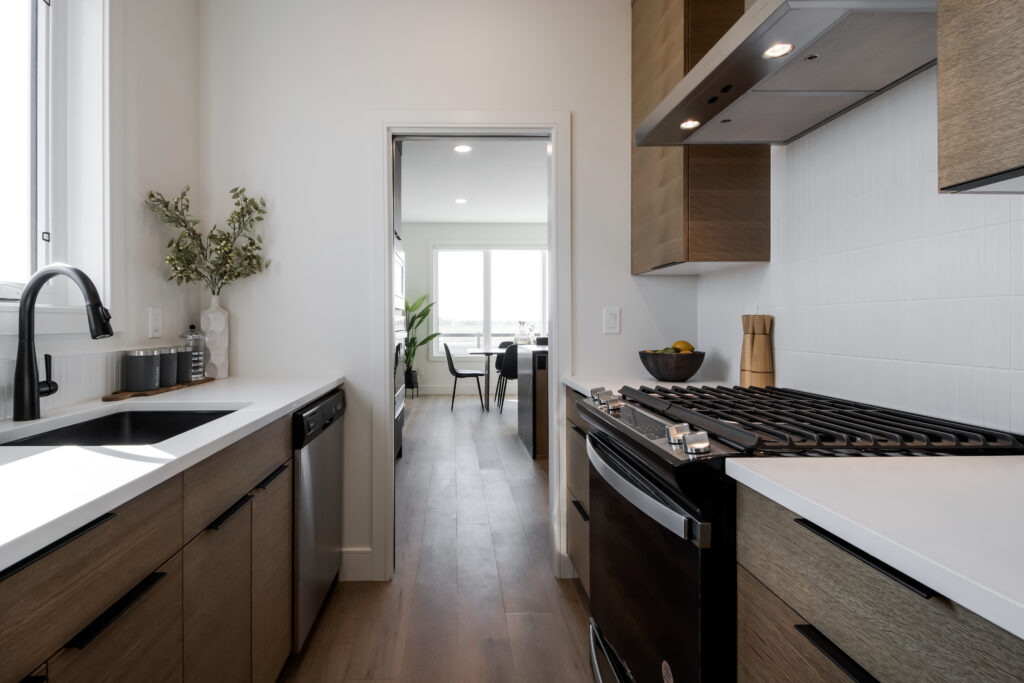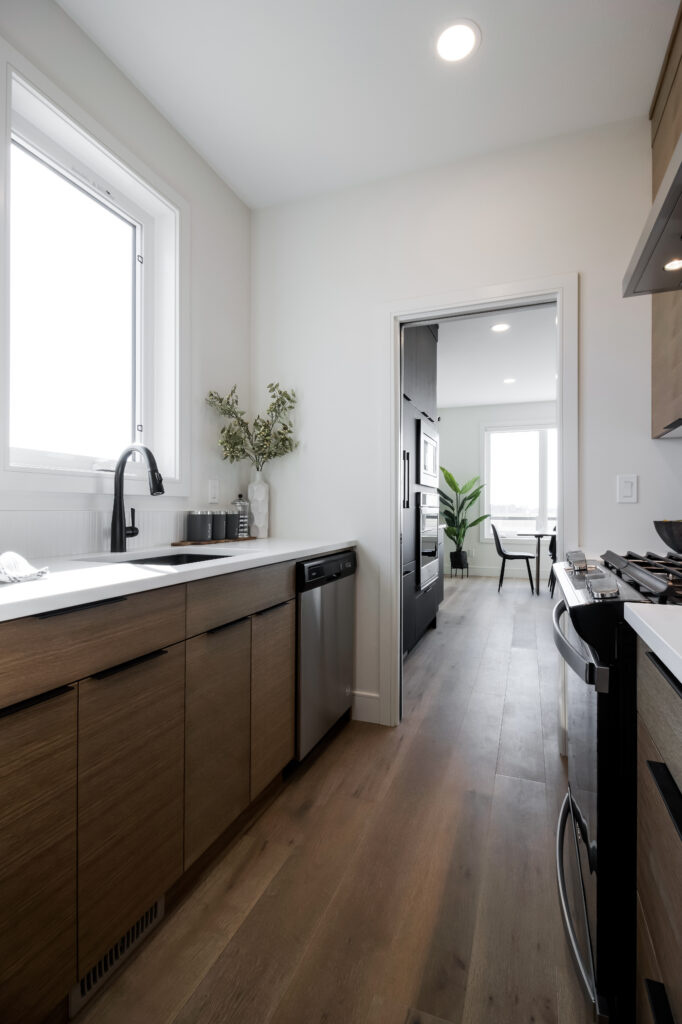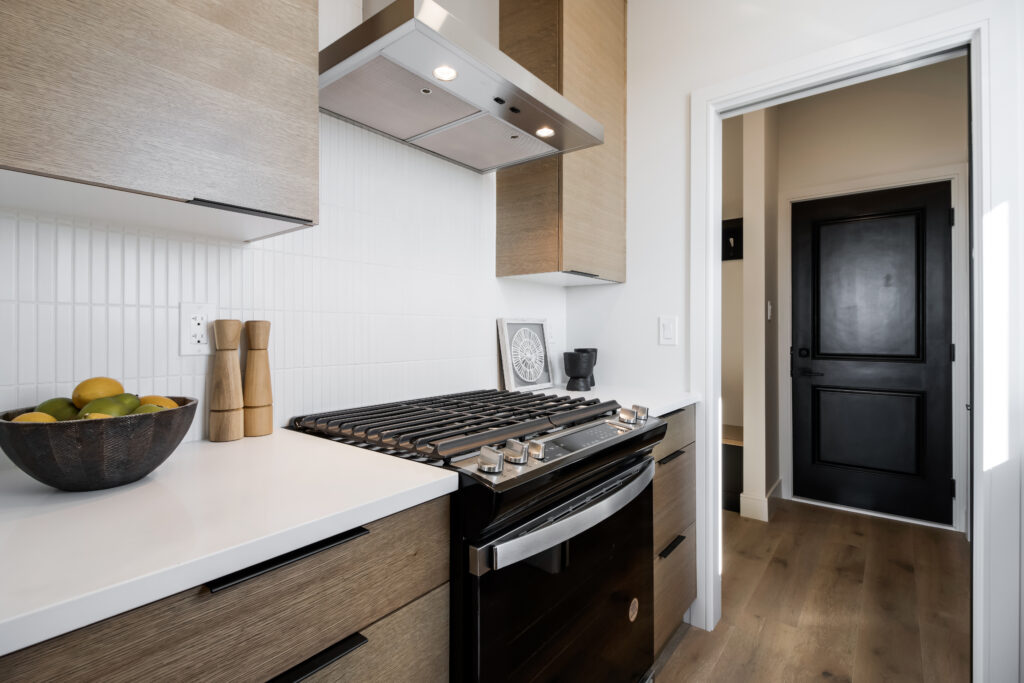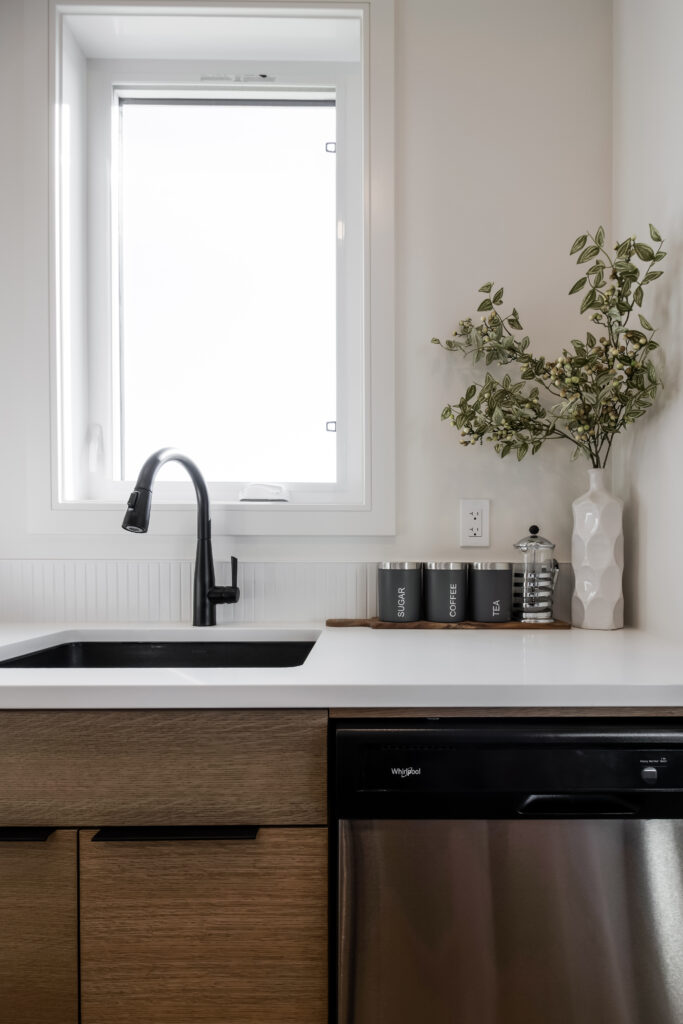 Additional Show Home Upgrades
The commitment to enhancing both functionality and aesthetics in this show home is exemplified through even more thoughtfully executed upgrades. The addition of a walk-out basement with a rear concrete pad and sliding patio door not only expands living space but also seamlessly integrates indoor and outdoor living. A rear deck adds to the outdoor charm, providing an inviting space for relaxation and entertainment. 
The upgraded laundry room, now equipped with a sink and countertop, transforms into a haven of efficiency and convenience. Similarly, the mudroom upgrade, complete with lockers, ushers in an organized and clutter-free entry. The extension of the front entry stairs to the full width of the veranda amplifies the grandeur of the entrance, making a striking first impression. 
In the heart of the home, the kitchen undergoes a stylish transformation with black velour melamine adorning the perimeter cabinets. This elegant touch infuses the space with a contemporary sophistication. The aesthetic evolution extends to the staircase as well, with the spindle railing being replaced by a sleek glass railing. These modern upgrades seamlessly merge with the overall design, enhancing the overall visual allure of the show home.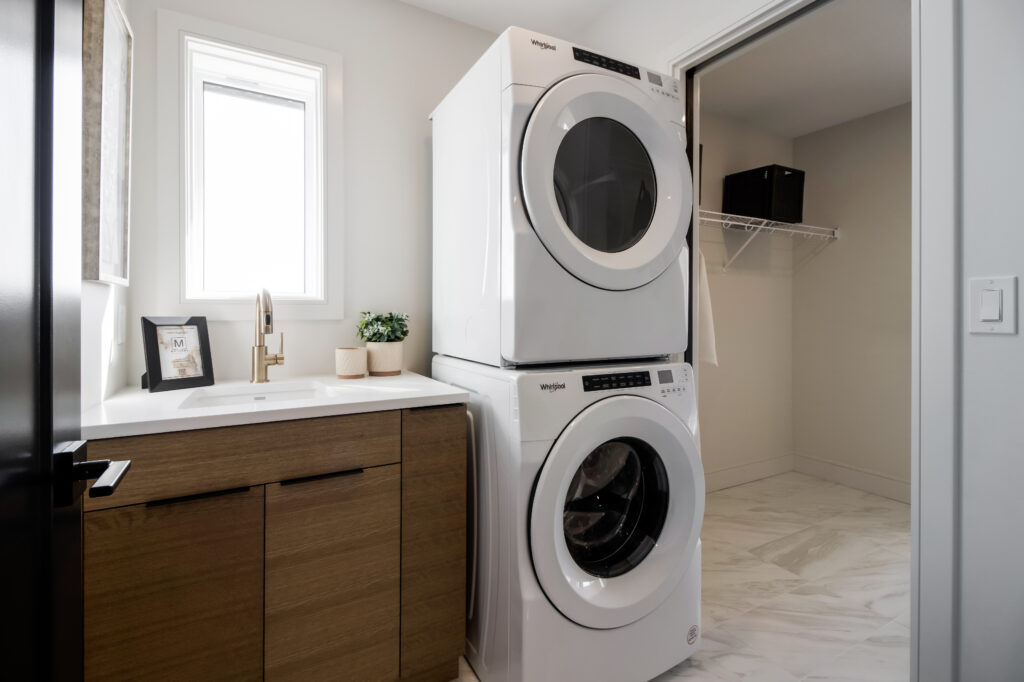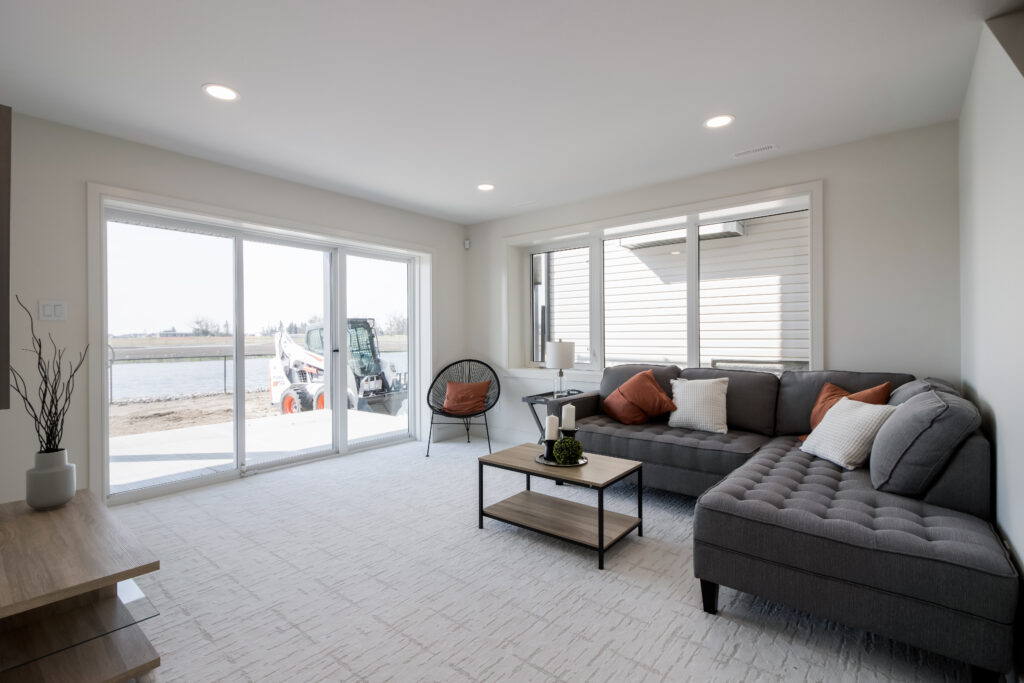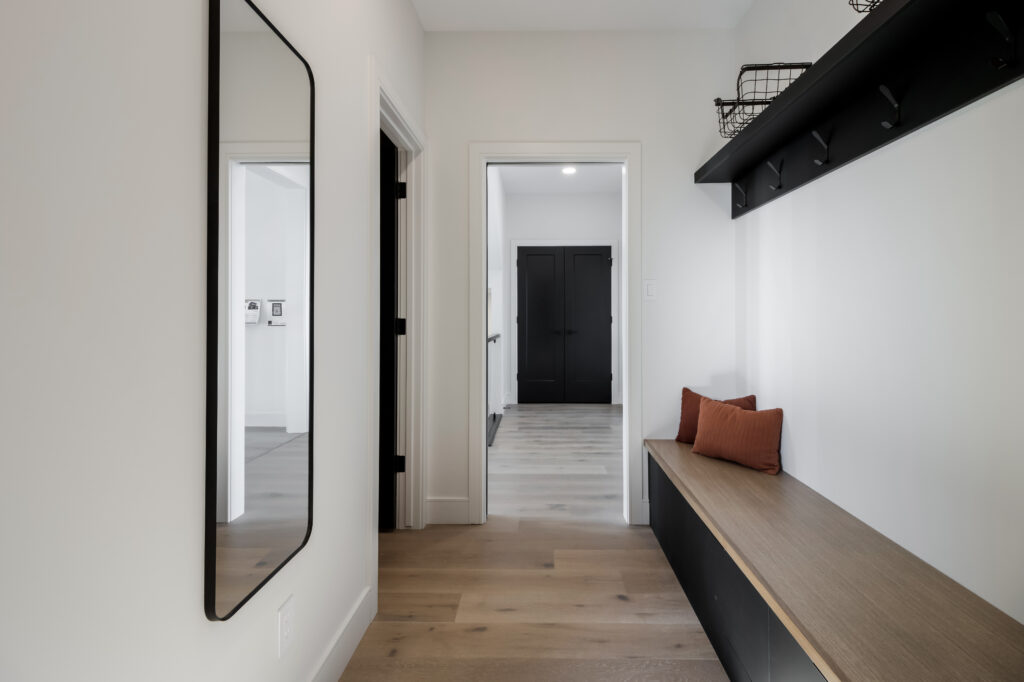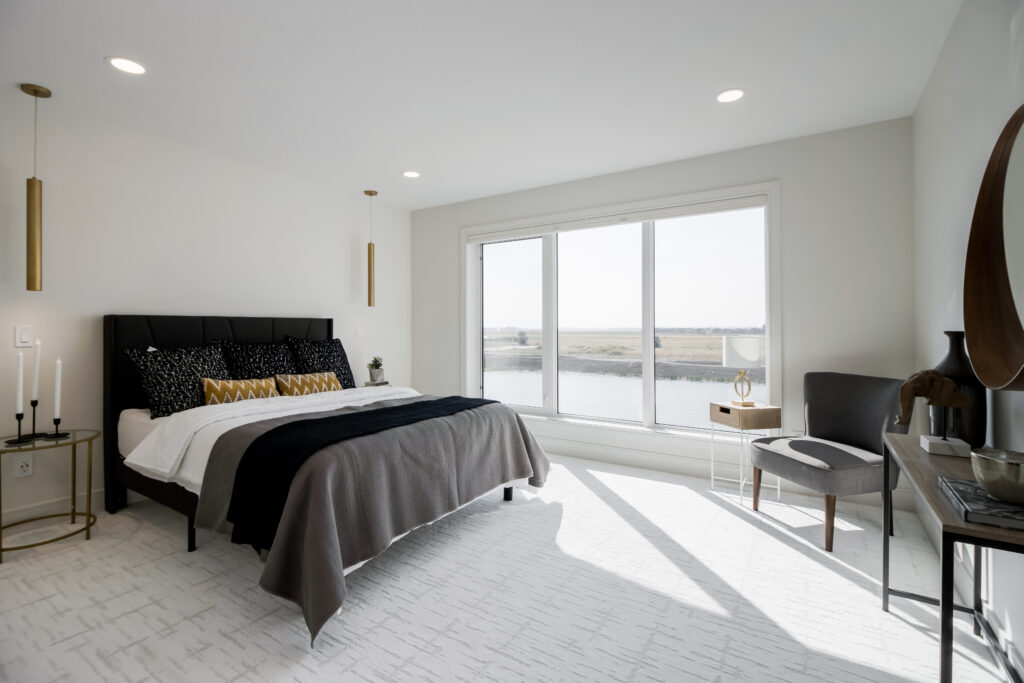 The home's overall design aesthetics captivate with their carefully orchestrated details. As one approaches the residence, the exterior boasts a dark and modern style heightened by a captivating mix of stone and faux wood accents, setting the stage for an enchanting initial impression. On the interior, neutral but stark color palettes form a harmonious canvas, complemented by the welcoming essence of Quarter Sawn oak cabinetry that exudes warmth. The interplay of textures emerges as a visual delight, infusing the space with a sense of depth and personality. 
Central to the design narrative, the extended fireplace stands as a focal point, bedecked with large format tiles and painted MDF slates. This exquisite feature not only accentuates the lofty ceilings but also frames the mesmerizing views of the pond, creating a seamless connection between the interior and the serene outdoors. 
Overall, this home's high-end finishes and luxurious upgrades infuse each room with an elegant ambiance.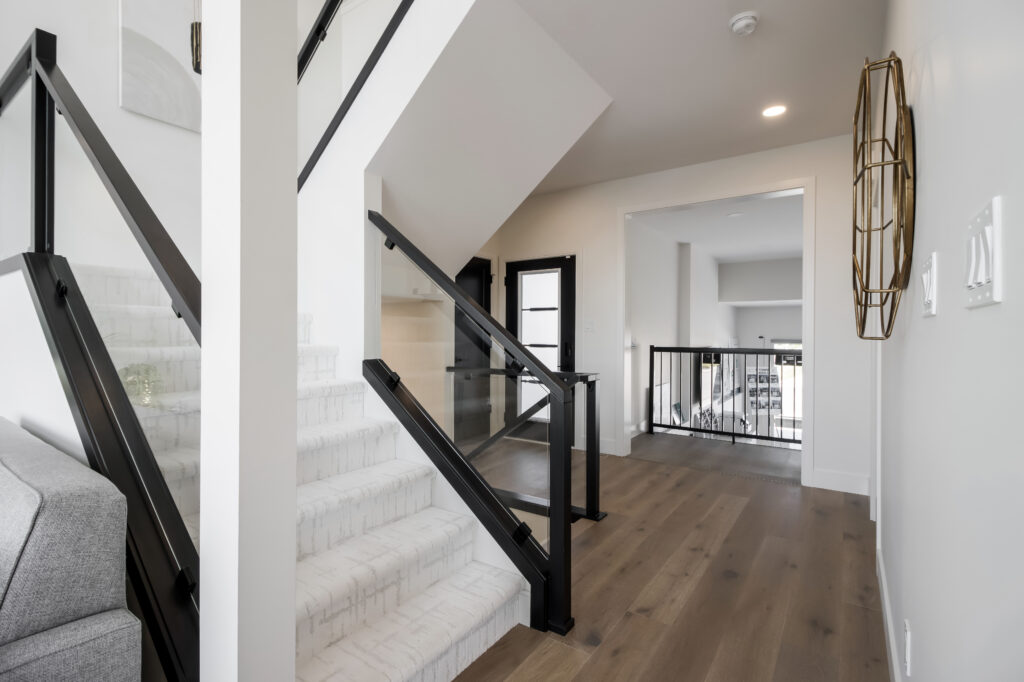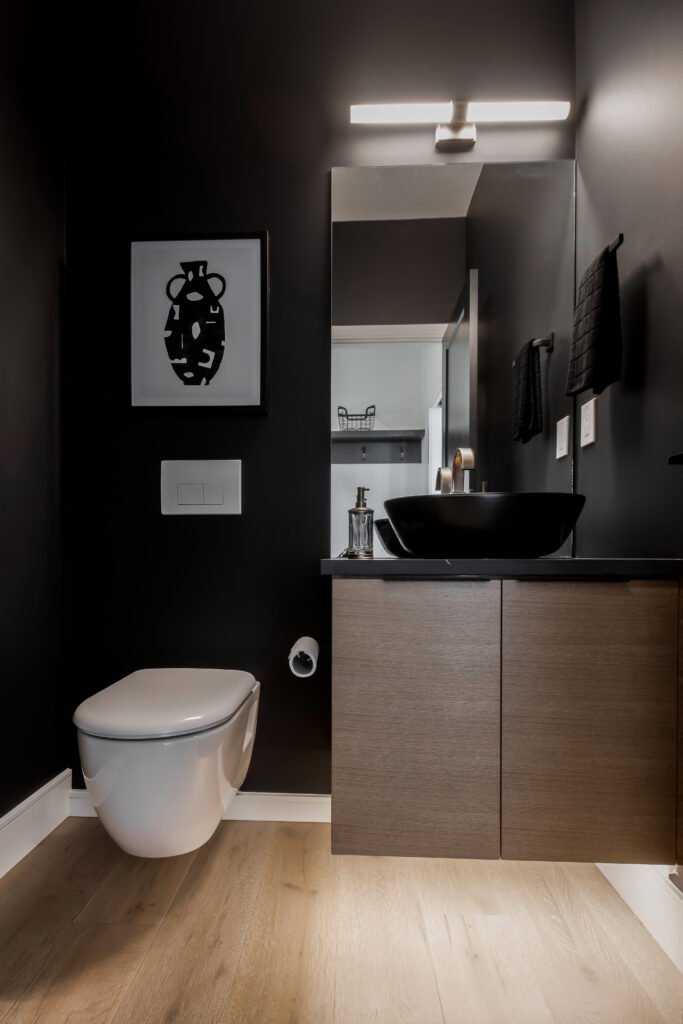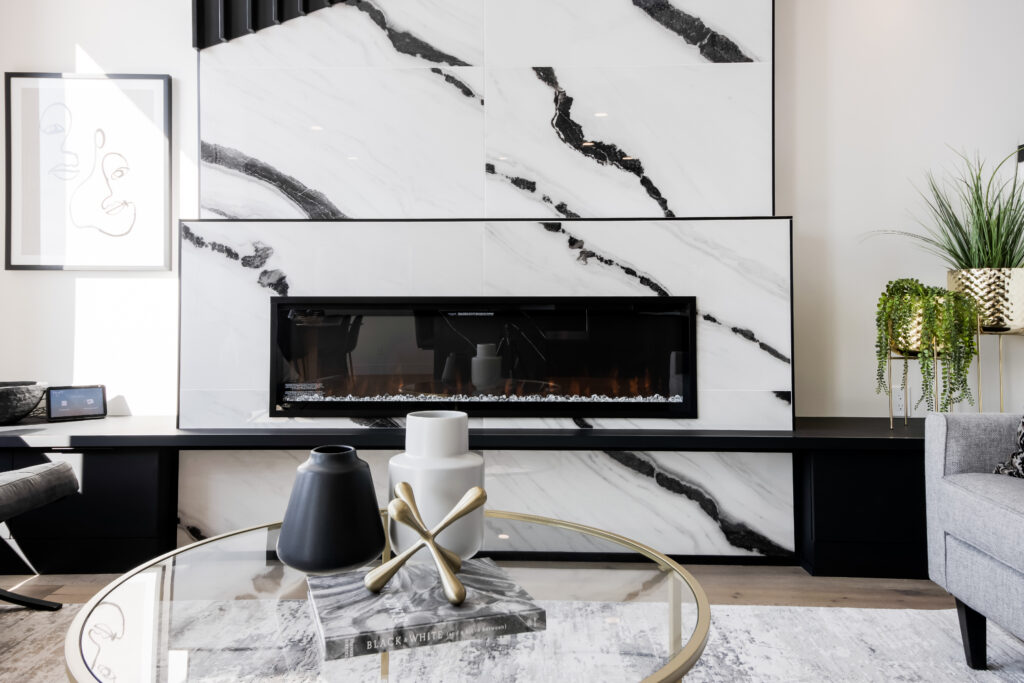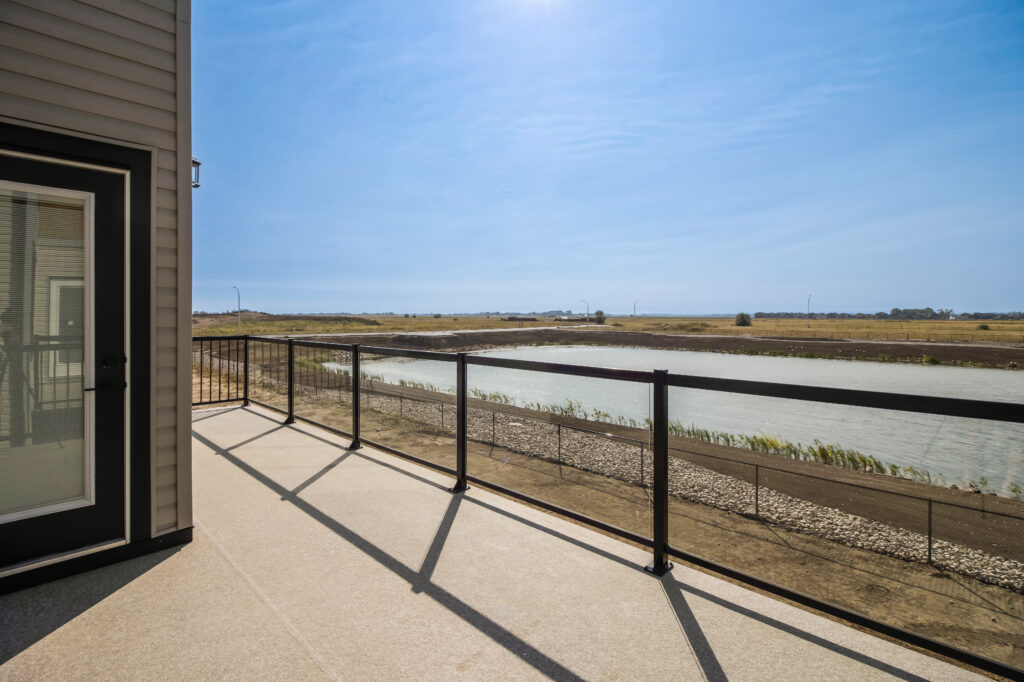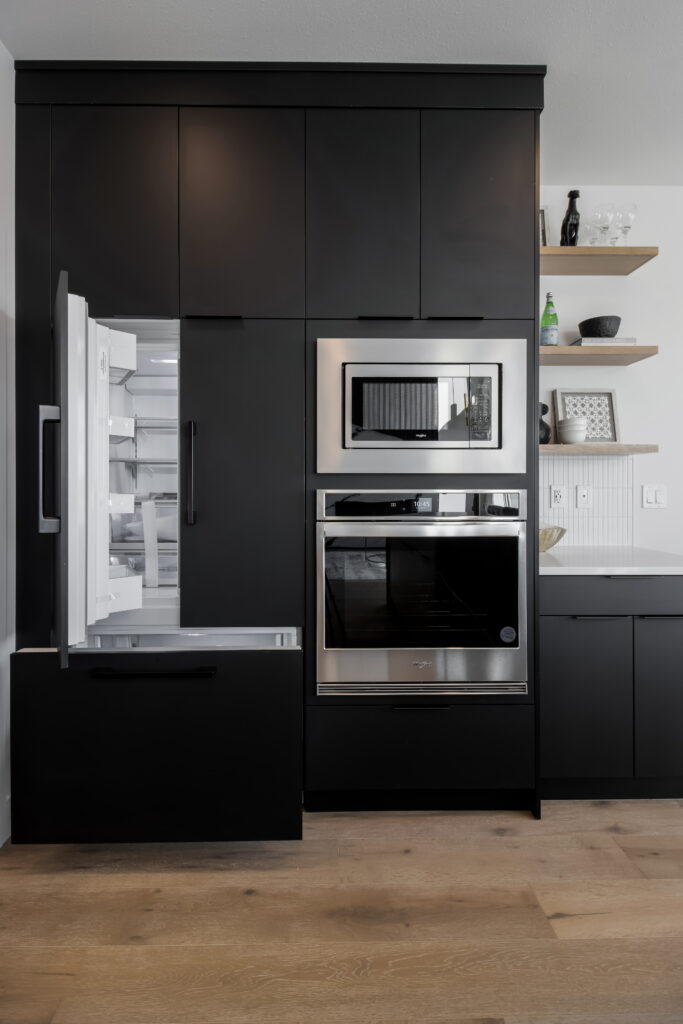 Living in

Southbrook Lethbridge
Nestled in the southern part of Lethbridge, Southbrook stands as a thoughtfully designed community that blends modern living with the natural charm of its surroundings. This newly established neighborhood caters to a wide range of residents, from families to professionals and anyone seeking a peaceful yet convenient lifestyle. 
Southbrook's location offers practicality as it provides easy access to essential amenities, schools, parks, and shopping centers. Whether you're heading to work, taking a leisurely stroll, or going for a shopping trip, everything you need is close at hand. 
The community's dedication to preserving the area's natural beauty is evident through its well-planned green spaces, parks, and walking trails. Residents can enjoy the outdoors without sacrificing the convenience of city life. One of Southbrook's standout features is its strong sense of community. Regular events, gatherings, and activities bring neighbors together, transforming the neighborhood into a close-knit community where people truly know and support each other. 
Southbrook New Home Sales Consultant
To help guide you through Stranville Living's Southbrook show home, is Hannah Morales. She is our Southbrook New Home Sales Consultant and is prepared to help you with all queries related to Stranville Living, our home models, and the local neighbourhood. Hannah is available at the Southbrook show home Monday through Thursday from 2:00PM to 8:00PM and Saturday and Sunday from 12:00PM to 5:00PM.  
She takes time to understand the unique needs and desires of each buyer and uses her expertise to guide them through a smooth and enjoyable home buying process. We invite you to visit Hannah at our Southbrook show home!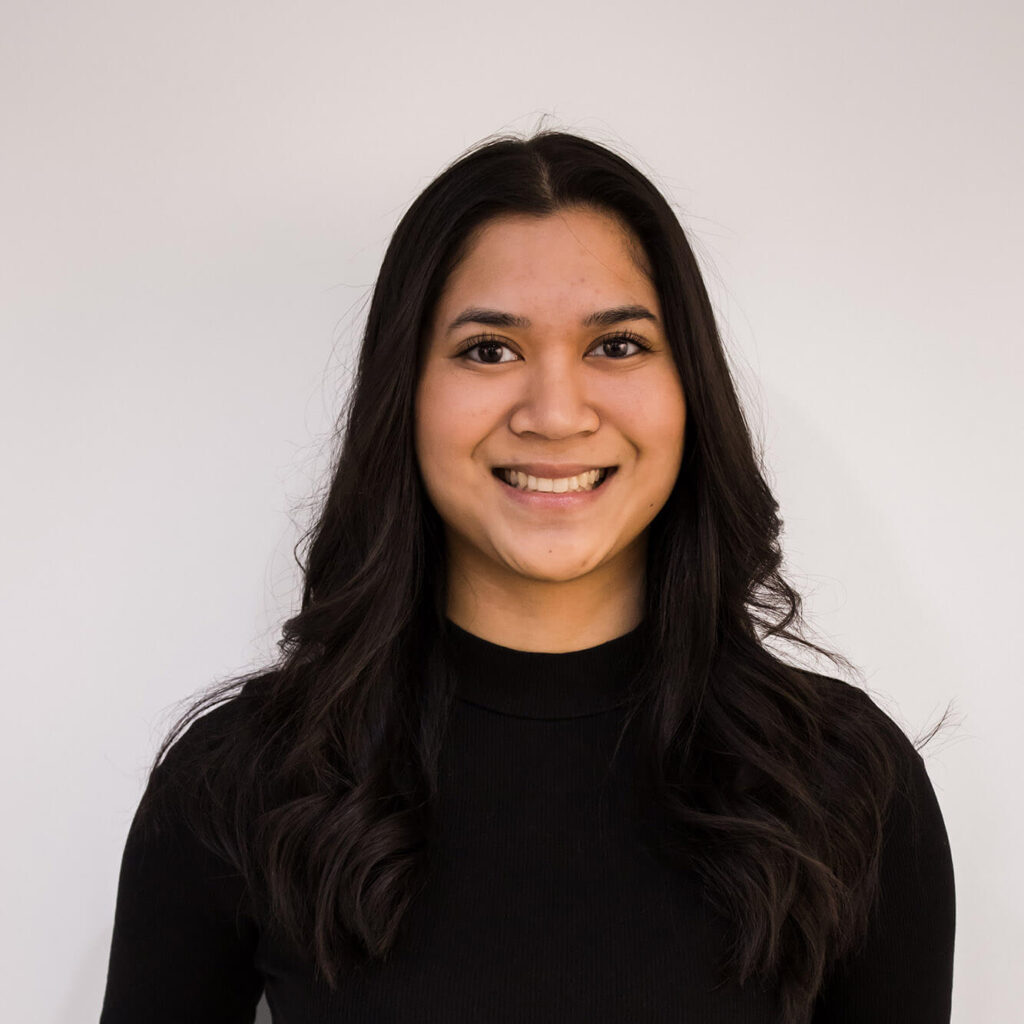 Southbrook New Home Sales Consultant
Homes for Sale in
Southbrook by Stranville Living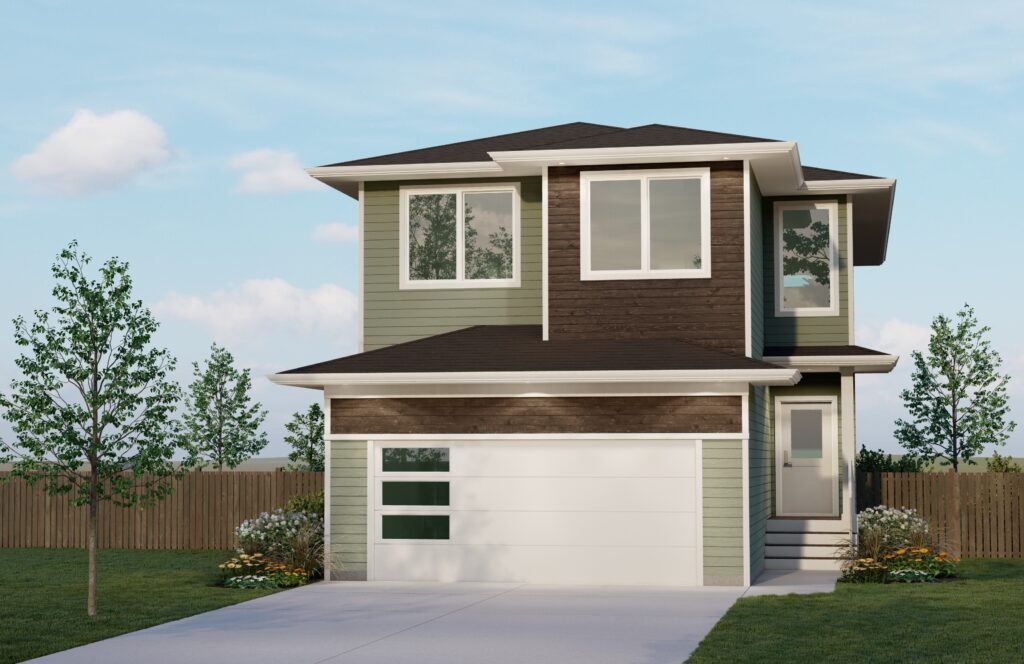 4501 Ave S., Southrook
Perth III | Two-Storey | 1926 sq. ft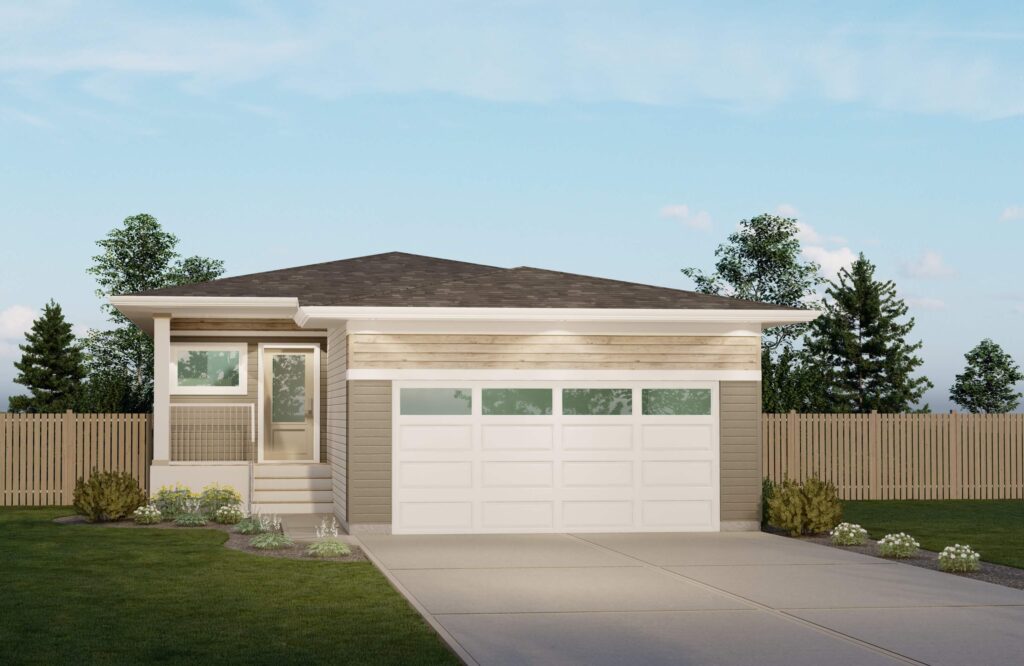 4630 31 Ave S., Southbrook
Darrow | Bungalow | 1380 sq. ft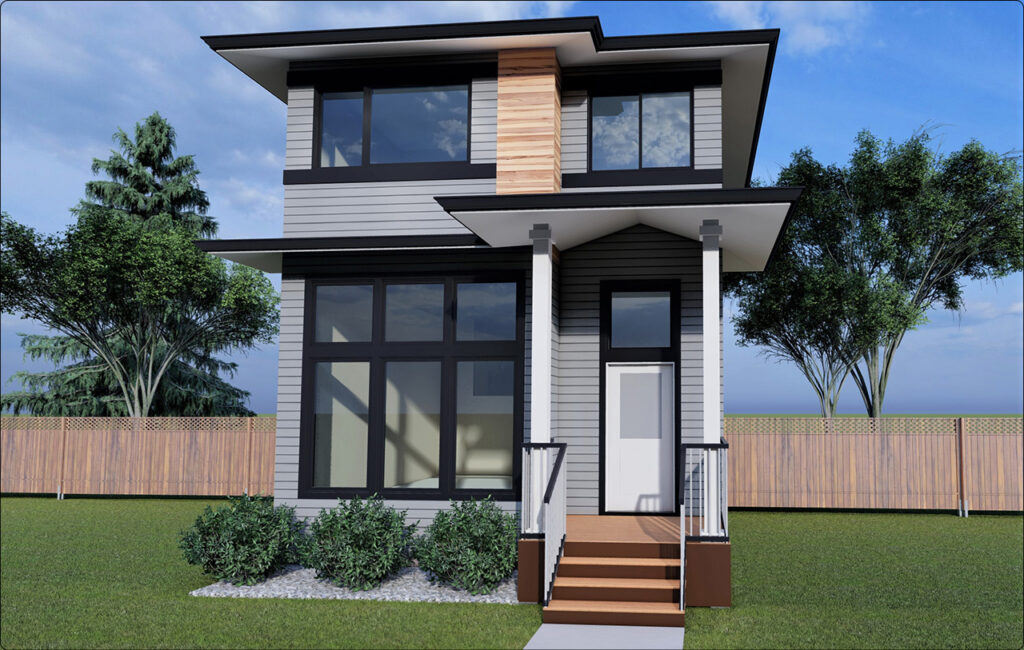 2514 46th Street S., Southbrook
Kendrick | Two Storey | 1668 sq. ft
Southbrook Lethbridge continues to redefine the standards of elegance and innovation, inviting you to experience a lifestyle where every detail is carefully crafted for a refined living experience.  
Stranville Living Master Builder stands out among home builders in the realm, particularly in the Southbrook Lethbridge community. The show home at Southbrook Lethbridge showcases their unwavering dedication to quality, innovation, and design.  
Whether you're captivated by the Southbrook Lethbridge show home or enticed by the wide range of homes available for sale, it's evident that Southbrook is more than just a place to reside; it's a place where you can flourish, forge connections, and create cherished memories. Embrace this opportunity presented by Stranville Living Master Builder at Southbrook Lethbridge.